Now that you have registered with MyCarer as a care provider, follow these easy guidelines to find your next employment.
Once you have signed into your profile, you can go ahead and further edit your profile if you are not satisfied with your  details. Make sure to have added all the necessary documents and have a clear description of your skills in your summary.
You can also add your work experience, which will provide as an added recommendation for your future employers.
To browse jobs you can click on the Active Jobs icon on the top of the page, which will guide you to a page where you have a list of active jobs. You can refine it by adding your preferred suburb

or what you are interested in pursuing.
The Advanced Search bar is on the left on your profile. It can help you search for jobs while further refining your search. For Example you can refine your search by the type of work your are willing to do, filter by type of service, by qualification or any other preference.
You are then guided to the list of employers and you can then proceed to apply for the job or send them a message for further details.
A list of available jobs will be shown on the bottom right hand corner on your profile. You can click a name and then continue to send them a message or apply for the job.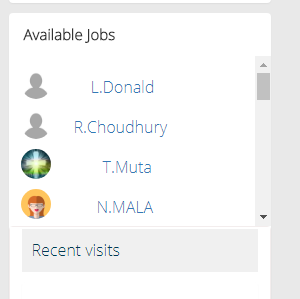 On the top left hand corner on your profile, you will be shown the jobs you have applied for.
Follow these simple guide lines and be one step closer to finding the right employment.